Science Education: Cell Biology
Understanding the structure and function of cells and their many parts, in health and in disease—that's cell biology. Studies in cell biology focus on questions like:
How do cells move, communicate, divide and ultimately die?
How are cellular components made and maintained?
What tools do we need to study cells up close and in real time?
Follow the links below to learn more about cell biology, including recent discoveries, and read profiles of researchers working in this field.
---
Booklets
Inside the Cell
Explores the interior design of cells and vividly describes the processes that take place within cellular organelles and structures.
The Structures of Life
Reveals how understanding the shape of biological molecules involved in many cellular processes provides insight into health and disease.
---
Classroom Poster
Seeing Cells Poster
Displays a variety of cell images and some basic facts about cells.
---
Fact Sheet
Cells
Trillions of cells make up our bodies, and researchers continue to learn more about their features and functions. Discover some recent advances.
---
Research News
Mapping Approach Yields Insulin Secretion Pathway Insights
A roadmap of the protein interactions that lead to insulin production, storage and secretion may aid the development of new, targeted approaches to treating type 2 diabetes and metabolic syndrome.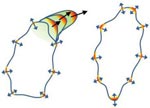 Cells Merrily 'Row' Without Sensor Proteins
Targeting messenger proteins may immobilize cells, including cancerous ones.
Flu Finds a Way In
Researchers have uncovered a surprising flu mutation that allows influenza to infect cells in a new way.
---
Articles
Monster Mash: Protein Folding Gone Wrong
Gooey protein clumps called amyloid plaques are associated with many chronic and debilitating disorders, and scientists now have a better understanding of how they form and contribute to disease.
How Cells Eat In
Researchers are learning more about how our cells ingest nutrients, and the details may lead to ways to prevent this process from malfunctioning.
The Science of Sensation
Why do roses smell pleasant and strawberries taste sweet? Learn about some of the cells and molecules that help us detect these and other sensations.
---
Profiles: Meet a Scientist
Green Light
Chemist Marc Zimmer studies protein molecules that make animals glow in the dark—and help scientists study their cells.
Mastering Stem Cells
Researcher Peggy Goodell pursues the properties and uses of stem cells.
The Forces That Bind
Engineer Andrés García studies cell stickiness to create new biomaterials that can heal bones and other body tissues.
---
Audio and Video
Cool Video: How Bee Venom Toxin Kills Cells
A new video that shows how a toxin destroys an animal or bacterial cell might help scientists design new drugs to combat bacterial infections.
Cool Video: How Cilia Do the Wave
Thin, hairlike biological structures called cilia are tiny but mighty. Working together, cilia play essential roles in human health, such as sweeping debris from the lungs.
Cool Video: Beating Bleeding
Watch proteins in action as they signal blood to clot after an injury.
---
Images
Cool Image: Tiny Bacterial Motor
It looks like a fluorescent pill, but this image of an E. coli cell actually shows a new potential target in the fight against infectious diseases.
Cool Image: Chewing up Proteins
New research has revealed the role of an enzyme in the regulation of protein degradation in the cell and possibly in the development of cancer drugs.
Cool Image: Nanoparticles and Lung Function
What looks like a textile from a fashion designer's spring collection is actually a microscopic image of lung surfactant stressed by nanoparticles. The study that led to the image could help improve drug delivery methods.
---
Quizzes and Puzzles
Test Your Science IQ! Game: Cells
HTML Versions: High School Level | College Level | Graduate Level
Interactive Version
Inside the Cell Crossword Puzzle | Accessible Version
Related Links
Cellular Imaging and Related News Releases
The Cell: An Image Gallery
This page last reviewed on December 2, 2013