Science Education: Science Careers
Answering important questions, making new discoveries, being creative, working with interesting colleagues, helping people stay healthy—that's a career in basic biomedical research. Are you wondering:
What's it like to be a scientist?
How do you become a researcher?
What kind of programs and financial support are available for people who want to be trained in basic biomedical research or further develop their scientific careers?
Follow the links below to learn more.
---
Booklets
Findings
Showcases the vibrant and diverse scientists who do cutting-edge research and lead interesting lives.
---
Classroom Poster
Findings Poster
Find out what it's like to be a scientist and what scientists are discovering.
---
Fact Sheets
Diversity Programs
Get answers to frequently asked questions.
---
Profiles: Meet a Scientist
Scientist Gallery
Read about the diverse scientists featured in Findings magazine and in the Biomedical Beat blog.
Computing Careers
Meet scientists who are using math and computation to uncover new details about diseases, drug treatments and even crimes.
Meet a Chemist
Find out how people became chemists and what they're working on.
Diversity Program Alumni Updates
Meet NIGMS diversity programs alumni.
---
Audio and Video
Dr. Jon Lorsch on Scientific Public Service

NIGMS Director Jon Lorsch discusses his career path from academia to scientific administration and provides an overview of the Institute's mission.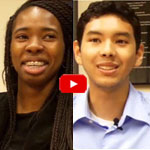 Jasmine Johnson & Gabriel Vela on Their Experience as High School Researchers at The Jackson Laboratory
Two teenagers talk about their research experience and future goals.
Related Information
For Teachers
This page last reviewed on October 20, 2017