Science Education: Physical Trauma and Sepsis
Studies on physical trauma and sepsis, the body's overwhelming immune response to severe injury or infection, focus on questions like:
What changes occur immediately and over time when a person is critically ill or injured?
Why does the immune system go into overdrive?
How can we improve diagnosis and treatment strategies?
Follow the links below to learn more about physical trauma and sepsis,including recent developments, and read profiles of researchers working in these areas.
---
Fact Sheets
Burns
Heat, chemicals, electricity, sunlight or nuclear radiation can cause tissue-damaging burns. Get answers to questions about burns and related treatments and research.
Physical Trauma
Physical trauma is a serious injury to the body. Learn more about basic research related to trauma.
Sepsis | En español
An overwhelming immune response to infection can cause sepsis. Get more information about sepsis and what we're learning about it.
---
Science Highlights
New Technology May Help Reduce Serious and Costly Post-Surgical Infections—Using Nothing but Air
A new device for filtering the air above incision sites may help prevent thousands of post-surgery infections and save millions in health care costs.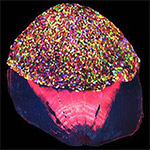 Visualizing Skin Regeneration in Real Time on Biomedical Beat
Because zebrafish can regrow injured or lost fins, scientists study them to learn more about tissue regeneration. A new imaging technique shows how the fish's skin cells respond during tissue repair and replacement.
Preventing Sepsis in Half the Time
An antibiotic regimen half as long as the standard course could be just as effective in treating intra-abdominal infections and preventing sepsis.
---
Profiles: Meet a Scientist
Game Changer
Pediatric orthopedic surgeon examines the causes of elbow injuries in young baseball pitchers.
For Janice: Legacy of a Short Life
Neurosurgeon and immunologist Kevin Tracey studies why our immune systems cause illness.



Dogging Sepsis
Veterinarian Cynthia Otto studies sepsis, a dramatic, full-body reaction to an injury or illness.



---
Audio and Video
Dr. Scott Somers on Trauma
NIGMS' Scott Somers talks about what happens to the body after a serious physical injury.
Dr. Kevin Tracey on Sepsis
Kevin Tracey describes how he became interested in studying sepsis and what scientists have learned about the condition.
---
Images
A World Without Pain
Interactive virtual reality environment called "Snow World" reduces the pain experienced by burn patients.
Skin Cross-Section
Cross-section of skin anatomy shows layers and different tissue types.
Heart Rates Time Series
These time series show the heart rates of four different individuals.
This page last reviewed on September 20, 2017.